Author:
mindflowers
Page 1 of 11
Bill Willingham's Fables is a whimsical comic series about fairytale characters, set in grimy New York City. Ichabod Crane is Mayor, Beauty and the Beast have marital issues,…
"They are naturals in front of the camera. Ms. Hsu, 84, exudes the haughtiness of a supermodel but retains an air of playfulness. Mr. Chang, 83, is the…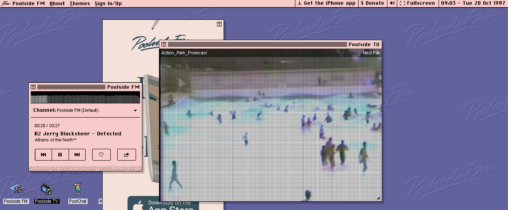 It is raining in Seattle. Why not head to a beach circa summer of 1997? Poolside.fm's webpage takes you to a 90's Macintosh Desktop with curated music and…
I haven't had positive experiences with Kickstarter technology offerings, I'm hesitant to throw money at gimmicks. But I remember lusting after the original Sisyphus Table years ago when…
Netflix has ignited a project to unite these two spacey girls who live in the public domain. The Alice and Dorothy crossover is reportedly a "fantasy adventure epic"…
From the article "What Can We Learn From Bad Trips?" published in EntheoNation. "In a society that so prizes pleasure over pain, we are conditioned to regard difficult…
Grey is my favorite color of the rainbow. I like your necklace. I want to sit on it. Pee. Poop. Blood. Wait, is blood potty talk? [while taking…
The Rainbow Eucalyptus is native to Philippines, Indonesia and Papua New Guinea. It lives in rainforests and is "one of only four Eucalyptus species out of more than…
The English language resides on the wings of butterflies, as photographed by Norwegian photographer Kjell Bloch Sandved. You can purchase a poster print from Sandved's website.